I recently signed-up for the Flirty Apron Swap (must figure out how to get that fancy button onto my blog). And, this morning, as I drink my coffee and surf the net - I saw this in my e-mail:

iCity
Now there's a special website you can visit to find out what's happening with aprons…the popular rage in sewing for creativity and domesticity and just plain fun.
Go there now to find out about the Apron-iCity Apron Challenge!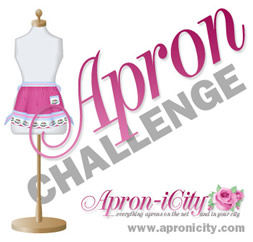 iCity Apron Challenge"

Design an apron…or two…or three…
to enter.
Winners chosen in each of the challenge categories by a panel of industry experts will be spotlighted on the website and other publications of interest to sewers and quilters.

This is a great opportunity to have your creativity honored and published for others to celebrate your creativity.

Visit www.apron-icity.com for entry and deadline details. Perhaps you'll see your design in print and on the small screen…the computer screen, that is!
Everyone is going loco for aprons. I have a great idea for my swap partners apron. Well, I am actually going to make three - one for me (to try to work out all the kinks) and then I have two swap partners for two different swaps that I want to make aprons for. The one is due in less than a month.
EEEEK
. Must actually write ideas down now before I forget them...